Shrimp Nachos
November 6 is National Nachos Day! On this day we celebrate everyone's favorite snack no matter how you make it. We choose the shrimp! Our mouthwatering shrimp nachos are a true delight for seafood lovers. Picture perfectly seasoned shrimp, piled high on a bed of crispy tortilla chips, topped with melted cheese, fresh salsa, and a drizzle of tangy sauce. It's a flavor explosion that will leave you craving for more.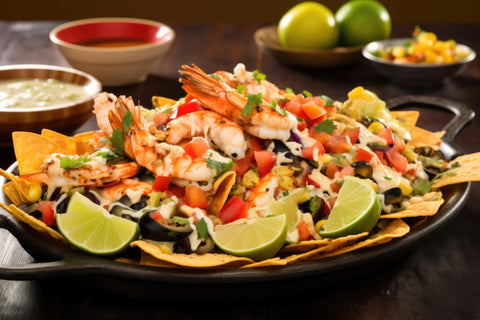 Ingredients
1 (14.5 ounce) package tortilla chips, or to taste
2 pounds shredded Monterey Jack cheese
1 ½ pounds large peeled and deveined cooked shrimp, tails removed and shrimp quartered
1 cup mayonnaise
4 chipotle peppers in adobo sauce, chopped
½ cup chopped fresh cilantro
¼ cup dried minced onion (such as McCormick® Coarse Grind Blend White and Green Onions)
1 ½ tablespoons ground cumin
¼ teaspoon ground black pepper
Directions
Step 1: Preheat Pizzello oven to 400℉ (200℃). Line a baking sheet with aluminum foil.
Step 2: Spread tortilla chips onto the prepared baking sheet.
Step 3: Mix Monterey Jack cheese, shrimp, mayonnaise, chipotle peppers in adobo sauce, cilantro, minced onion, cumin, and black pepper together in a bowl. Spoon mixture onto the tortilla chips.
Step 4: Bake in the preheated oven for 3 minutes. Turn on the broiler and broil nachos until lightly browned, 3 to 4 minutes. Allow nachos to sit at room temperature for about 2 minutes before serving.
---