Hawaiian Pizza with Cauliflower Crust
What to make for dinner tonight? Hawaiian pizza to the rescue! Salty, sweet, crunchy, cheesy—that's the combination of flavors you get in this pizza, which also happens to be gluten free because it's made with a cauliflower pizza crust!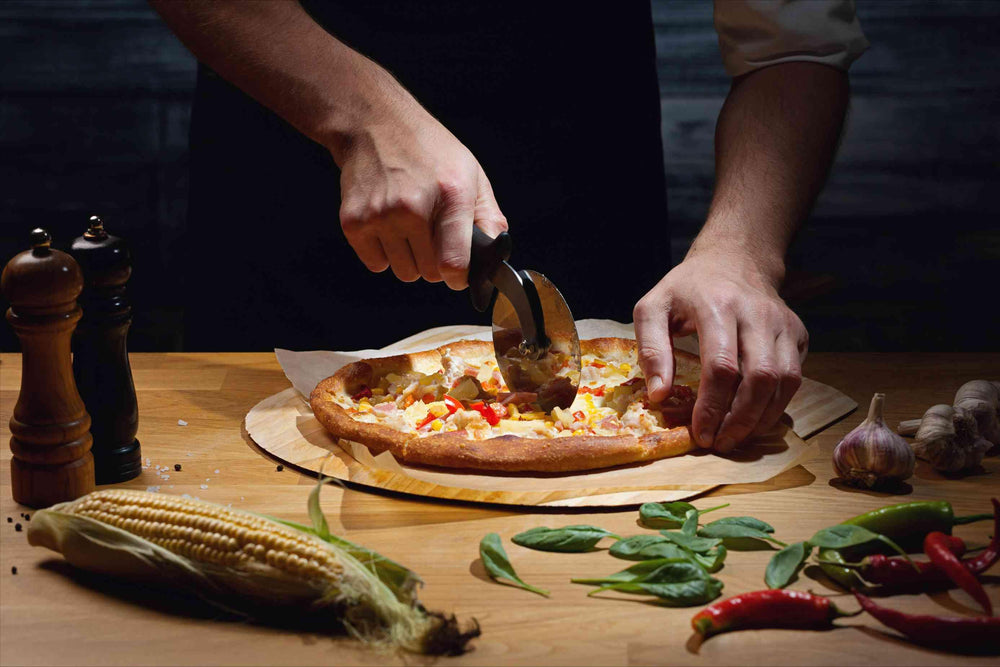 Dinner/lunch
Hawaiian
8 slices
Adding fruit to a pizza may seem unusual, but pineapple is an exception. Canadian bacon slices that have been cured match well with chopped pineapple, which is held together by melted mozzarella cheese.
This rendition of Hawaiian pizza features an unorthodox touch. It is created using a cauliflower crust rather than the conventional wheat dough!
You will be pleasantly pleased by the texture, which is comparable to that of thin flatbread. The crust is simple and enjoyable to produce, providing a healthier and lighter pizza option.
How to Prepare the Cauliflower Crust for Pizza
Cauliflower has become a popular cruciferous vegetable used in cooking, and if you haven't noticed, it has even made its way onto pizza. Are you all set?

This recipe for cauliflower pizza crust is easy to prepare. Florets are manufactured with maize flour, eggs, olive oil, salt, cornstarch, and parmesan cheese. Eggs and cheese help to bond the pizza dough so that each slice is pliable and simple to pick up.

The flavor is dominated by the finely ground corn, which imparts earthy overtones. It also imparts an enticing chewiness to the crust, comparable to wheat flour but without the gluten.

Cauliflower's neutral flavor imparts its vegetable superpowers without imparting any unpleasant qualities. It is a versatile crust that may be expanded to accommodate any desired topping. Yes, it is possible to have your pizza and eat it too.
The Ingredients of Hawaiian Pizza
This is a "red sauce pie," therefore for the base, use pizza sauce or fresh tomato sauce. whatever suits your needs best!

Look for full balls of mozzarella made from part-skim or whole milk instead than grated cheese. These have superior melting characteristics.

What's up with the ham? I really enjoy Canadian bacon. Also known as back bacon or peameal bacon, this pork product is leaner, cured, and fully cooked compared to its American belly cut equivalents, which require extra cooking.

Enhance your pizza by topping it with both Canadian bacon and smoky American bacon. So, both the savory and smoky bases are covered. If you have leftover ham from the holidays, ham steaks, or ham pieces from the deli that need to be used up, you can use those as well.

If you have a fresh, ripe pineapple that is begging to be cut, I would recommend starting with it. However, I rarely recall being offered anything other than canned diced pieces in pizza parlors, so don't be afraid to use what's more handy.

Because the fruit is picked and harvested at its prime, the flavor should be consistent and well-balanced in canned goods.
How to Bake the Pizza
Before adding the toppings, pre-bake the cauliflower crust for 10 minutes without any toppings. This ensures that any excess moisture from the cauliflower and other ingredients evaporates, allowing the crust to form on the bottom and sides. The worst thing is a soggy crust, and the pre-baking phase at high oven temperatures (475 degrees Fahrenheit) will prevent it.

The crust is flexible and cohesive, but it is rather thin and lacks the gluten-binding properties of a traditional wheat crust.

If you pile on too many toppings, it may be difficult to hold a fully laden slice in your palm. I've found that about a 1/2 cup of pizza sauce, 4 ounces of cheese, 4 to 5 slices of chopped ham, and 1/2 cup of diced pineapple give just the right balance on an 11-inch pizza crust.

Finish off baking the pie in a blazing hot oven until the cheese is hot and bubbly and the other toppings are warmed through. Be careful to watch that the edges of the crust stay crispy but not burnt. It's a 5-minute countdown from this point until you can devour a slice!
What to Serve Alongside Pizza
This Hawaiian pizza recipe serves up about 8 slices, just enough for a family of four or a hungry pair. I like to have some additional sides to make it a complete meal such as a Caesar salad, wedge salad, broccoli slaw, or zucchini sticks.

If you're feeling fancy, roasted brussels sprouts, parmesan broccoli, or an Italian antipasto salad are great choices, too.
Hawaiian Pizza with Cauliflower Crust
PREP TIME
30 mins
COOK TIME 15 mins
TOTAL TIME
45 mins
SERVINGS8 slices
YIELD1 pizza
For full step-by-step instructions on making the cauliflower crust, see our post here.
Ingredients For the Cauliflower Crust
2 cups cauliflower florets (7 ounces), 1/2-inch pieces
1/2 cup corn flour (2 1/4 ounces 57 g) or masa harina
1 large egg
2 tablespoons olive oil
1/4 teaspoon kosher salt
2 tablespoons cornstarch
3 ounces Parmesan cheese (1 1/2 cups grated)
For the toppings:
1/2 cup pizza sauce, homemade or store-bought
4 ounces mozzarella cheese, shredded
5 slices Canadian bacon 1/2 cup diced pineapples, fresh or canned
Black pepper, for garnish
Oregano, fresh or dried, for garnish
---