Veggie Pizza
This is our ultimate oven-baked veggie lover's pizza. Red sauce, mozzarella, red onions, olives, bell peppers, artichokes, and a golden crust. It's all here!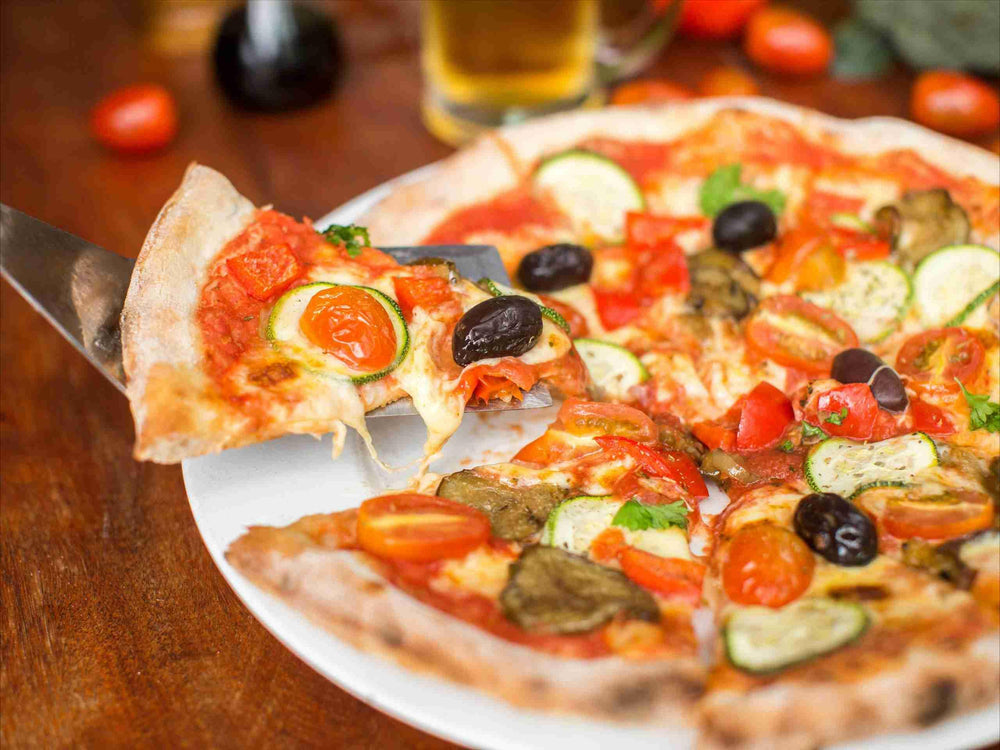 Dinner/lunch
4-6 servings, 2 pizzas
On top of a thin layer of tomato sauce were salty Kalamata olives, juicy artichokes, oozing mozzarella, sharp red onions, and sweet yellow bell peppers, which everyone devoured with gusto and delight.

This recipe is a template for a traditional vegetarian pizza, such as you would find at your neighborhood pizza place. This vibrant and completely delectable pizza should set you on your own way to vegetable nirvana.

Make it for a meatless Monday supper, or throw it up for Friday's movie night. Pizza must be one of the tastiest ways to consume vegetables.
All About Pizza Dough
Homemade dough is tastier and easier to create, but store-bought dough is also acceptable.

Allow homemade dough to rise at room temperature overnight or for up to 18 hours. It will provide an abundance of flavor and the desired huge air bubbles in the dough. If you refrigerate the dough for longer storage, remove it from the refrigerator approximately one hour in advance to bring it to room temperature.
Tips for Making Vegetarian Pizza
For the finest pizza ever, please read the following tips. You will soon become a pizza expert!
Toppings: Do not smother the pizza in toppings! When preparing pizza, less is more so that the dough remains crisp without becoming soggy. If you add too many toppings or sauce, the crust will become weighed down.
Oven temperature: Prepare the pizza in an extremely hot oven. Preheating the Pizzello oven to its maximum temperature to bake the pizza.
Baking time: The cooking times for a pizza stone and a sheet pan varies. On a sheet pan, the pizza will take longer to cook than on a heated pizza stone.
Assemble the pizza: One pizza is topped and baked at a time. While the first pizza is baking, begin preparing the second pizza.
Variations: Make It Yours
What's next now that you have a foundation? In truth, the sky is the limit. You can create anything you can imagine. Follow the axiom "what grows together, goes together" and combine the vegetables with some fresh herbs.

In the summer, you may use zucchini ribbons or fresh tomatoes with basil. In the fall, roasted squash and root vegetables with sage or rosemary seem great. In the spring, garnish it with asparagus and parsley or tarragon.
SO MANY Vegetarian Toppings
Here is a collection of vegetarian pizza topping suggestions. Some vegetables must be cooked in order to bring out their natural sweetness and to prevent them from drying out. It's not an entire list, but it should stimulate your creativity.
Vegetables
Asparagus: Cut thin ribbons or thin rounds of raw asparagus and toss in olive oil
Eggplant: Thinly slice into rounds and bake or fry with olive oil.
Raw dark leafy greens like kale, arugula, and spinach, dressed with oil and vinegar. Top the cooked pizza or add them on top of the pizza halfway through baking. 
Mushrooms: They can be sliced and raw or sautéed in olive oil. 
Potatoes: Boil them until tender and slice them thinly. Brush them with olive oil. 
Butternut, honeynut, or delicata squash: Thinly slice and roast them in the oven first. 
Cherry tomatoes: Simply halve them. 
Sun-dried tomatoes packed in oil: Slice them into small pieces.
Zucchini: Cut thin ribbons or thin rounds and salt both sides for about 20 minutes. Drain and pat off the moisture with a paper towel.
Cheeses
Parmesan 
Goat cheese 
Ricotta 
Provolone
Fontina
Gouda
Cheddar
Gruyere 
Spicy and Punchy Elements 
Olives (any kind), pepperoncini peppers, capers, pickled or raw jalapenos, red pepper flakes
Soft herbs: Use to garnish the cooked pizza, such as basil, tarragon, Italian parsley, and cilantro.
Sturdy herbs: Either sprinkle on before or after baking pizza, such as rosemary, thyme, sage, and fresh or dried oregano.
How to Reheat Leftover Pizza 
My preferred method for reheating pizza is in a 400oF oven. Five to ten minutes, or until it is heated. It could be cooked in the microwave, but I believe the crust becomes too soggy. Here are some useful warming tips for pizza.
---