Tuna pizza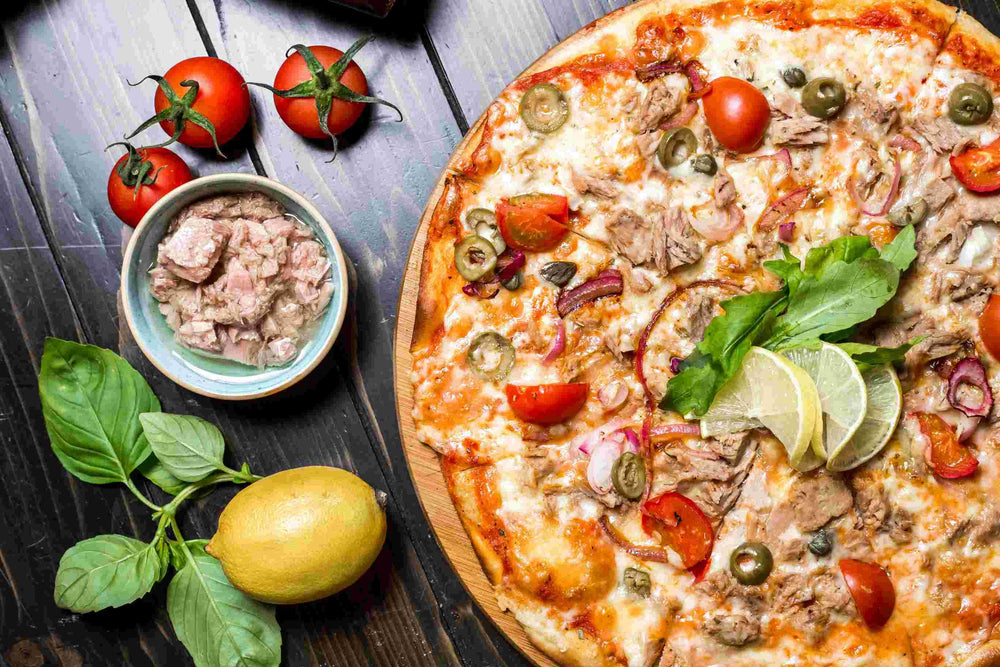 A tuna pizza? Does it sound a little wired? But trust me, 

 if you like tuna melts, you'll love the combo of crunchy crust, tasty mozzarella, and salty tuna!

Ingredients
For the dough
160 ml water
235 g strong white flour
1 tablespoon

 olive oil

, extra virgin
1 ½ teaspoon salt
1 tablespoon sugar
1 teaspoon dry yeast
For the topping
200 ml

 passata

1 teaspoon

 dry basil

250 g low-fat mozzarella, well-drained
2 cans tuna in sunflower oil, very well-drained
1 small red onion, finely sliced
30 g black olives, pitted
Directions
Make the dough
Step 1: Add all the ingredients in the bread maker in order and run the "dough" cycle. Some machines have a dedicated "pizza" setting. If yours has it, use that instead.

Step 2: Alternatively, make the dough by hand by adding all the dry ingredients in a bowl, mix them well, and gradually add the olive oil and water until you have a dough that's now sticky. Leave it to prove for 1 – 1 ½ hours.
Assemble the pizza

Step 1: Heat the Pizzello oven at 230℃.
Step 2: Mix the passata with the dry basil and season with salt and a pinch of black pepper.
Step 3: Roll the dough as thin as possible without tearing it. Place it on a pizza tray.
Step 4: Spread the sauce on the pizza. Add the mozzarella, torn by hand. Follow with the tuna, onion, and olives. Spread everything as evenly as you can.
Step 5: Bake for 20 minutes at 230 ℃ or until the mozzarella is melted and the base is crisp.
---