Spicy shrimp pizza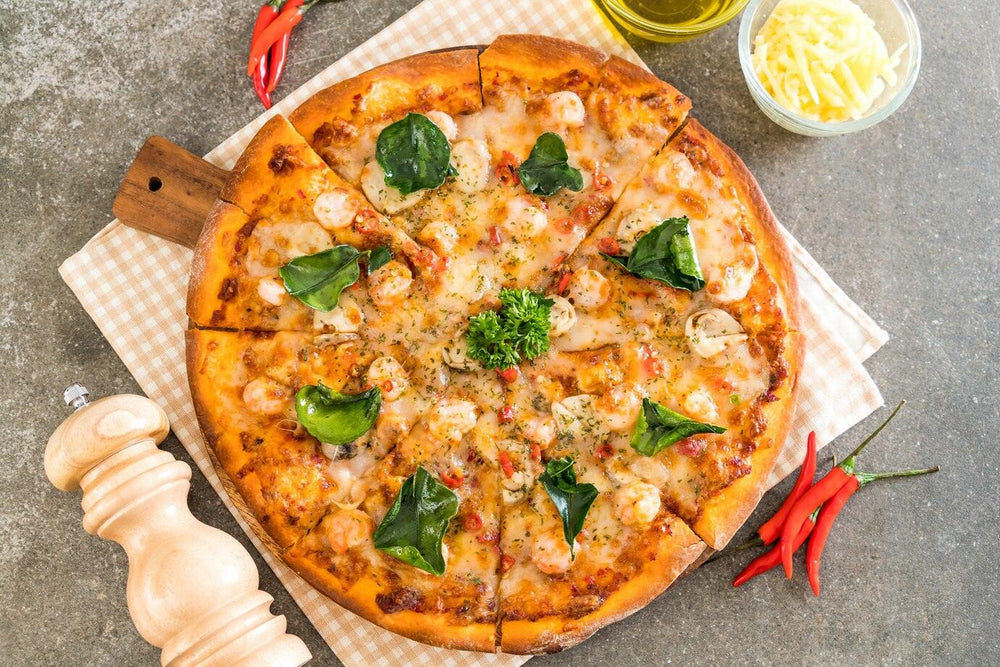 The sophisticated blend of seasonings, shrimp and a splash of white wine will make this awesome pizza a favorite with your grown-up friends. 

Pizza dough ingredients
1/2 to 3/4 teaspoon crushed red pepper flakes
2 tablespoons olive oil
1 medium onion, chopped
5 garlic cloves, minced
12 cherry tomatoes, halved
1 can (15 ounces) crushed tomatoes, undrained
1 cup white wine or chicken broth
1/2 teaspoon dried oregano
1/8 teaspoon pepper
3 tablespoons minced fresh parsley
1 prebaked 12-inch thin pizza crust
1 cup shredded Italian cheese blend
1 cup shredded Parmesan or Parmigiano-Reggiano cheese
Directions
Step 1: In a large skillet over medium heat, cook shrimp and pepper flakes in oil for 2-3 minutes or until shrimp turn pink. Remove and keep warm.

Step 2: In the same skillet, saute onion until tender. Add garlic; cook 1 minute longer. Add the cherry tomatoes, crushed tomatoes, wine, oregano and pepper. Bring to a boil; cook until liquid is reduced, stirring occasionally. Add shrimp and parsley; heat through.

Step 3: Place crust on an ungreased pizza pan. Spread shrimp mixture over crust to within 1/2 in. of edges; sprinkle with cheeses.
Step 4:Bake at 450° for 8-10 minutes or until cheese is melted and edges are lightly browned.
---