Biga Pizza Dough Recipe with Cauliflower Cream, Swiss Chard, and Calabrian Chile Oil
Sometimes you might be tired of eating meat after several heavy meals. So how about D-I-Y'ing a homemade, Italian Biga pizza dough to refresh your senses? Today we're sharing a brand-new, secret recipe from Kitchen & Craft. Bake this pizza with the Pizzello forte gas oven to achieve that traditional Neapolitan pizza flavor, and enjoy your deja vu in Naples.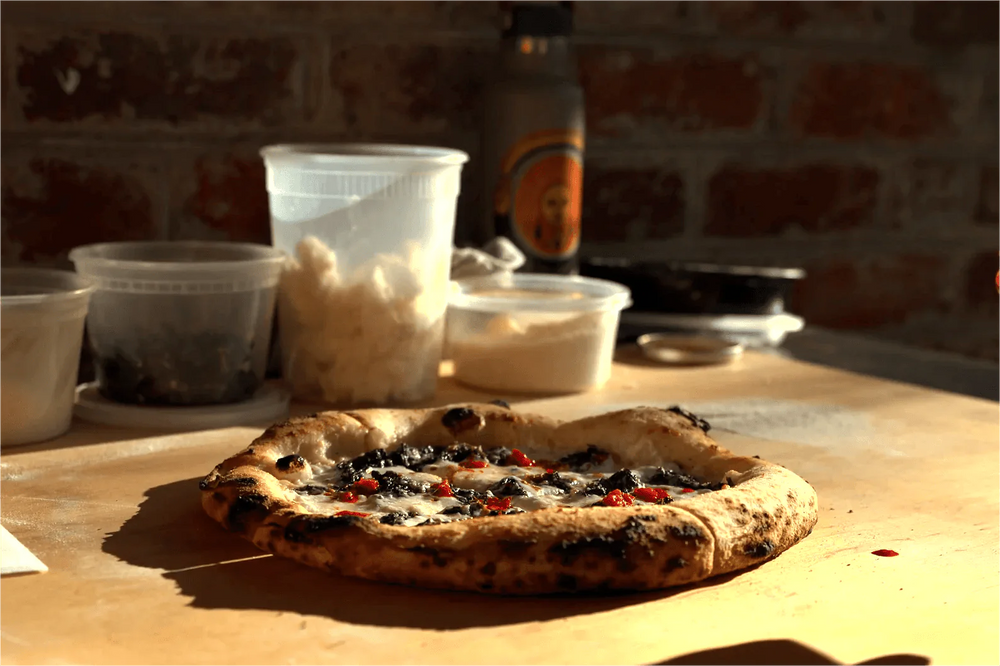 Lunch/Dinner
Neapolitan
2
Swiss chard cauli-cream topping recipe
Topping ingredients
CAULIFLOWER PUREE
Heavy Cream, 16 fl. oz. 473ml
Fresh Garlic, 1 clove
Cauliflower, small handful chopped
Fresh Thyme, 1 sprig
Sea Salt, to taste
SAUTEED SWISS CHARD
Extra Virgin Olive Oil, 2 Tbsp
Swiss Chard, 1 bunch cleaned and chopped
Fresh Garlic, 2 cloves minced
Fresh mozzarella and a little bit of parmigiana reggiano
Brown Anchovy, 2 fillets chopped
Baking pizza directions:
1. Use flour to message pizza dough and stretch it into 12-inches pie.
2. Place the heavy cream in a small sauce pot. Add the garlic, cauliflower, fresh thyme and season with salt. Bring the cream to a simmer, and reduce by 1/3. The cauliflower should be tender at this point. Remove the fresh thyme stem, then blitz the cauliflower cream with a stick blender until relatively smooth. Cool the cream in a refrigerator until you're ready to make pizza.
4. Place a few tablespoons of extra virgin olive oil in a large saute pan, and heat it up over a medium-high flame. Add the anchovy fillets. Stir then add the Swiss chard. Cook for a few minutes to wilt the greens, then add the garlic. Continue cooking for a few more minutes until the chard is very tender. Season with salt and pepper, then chill in the refrigerator until needed.
5. Smear the cauliflower cream and top Swiss chard on the streched 12-inches pizza dough. Add fresh mozzarella and a little bit of parmigiana reggiano. switch is on the pizza peel.
6. 
Slip it on the pizza stone and bake it about 90 seconds. First turn for 180 angles. Repeat this step for 2-3 times. Then you got nice baked Italian Biga. 
 7. Don't forget the chili oil. Enjoy your meal, and hope to catch you next time!
Preparation for a perfect pizza dough:
1. For the Biga, combine flour #1 with the yeast. Add water #1 and toss the ingredients together until you have a shaggy mixture. Some loose flour is perfectly fine. Cover the Biga and let it ferment at room temperature for 12-14 hours.
2. Place the Biga in a mixing the bowl and add water #2. Swish the biga around to break it up a little, then add flour #2 and the salt. Mix the ingredients until you have a solid, uniform mass.
3. Knead the dough for 5 minutes or until you have a fairly smooth dough. Turn it out on the counter and cover the dough. Let it rest for 10-20 minutes.
4. Knead the dough for another minute or two, then form it into a ball and place it in a lightly oiled bowl. Cover and let it rest for 1-2 hours or until slightly risen.
5. Portion the dough into 250-260 gram pieces. Form them into balls and place each one into an oiled container with a lid. Rest at room temp until doubled in size. Now you're ready to make some pizza.
Alternatively, you can cold ferment the pizza dough for 24-48 hours before using it. Just remember to rest the dough at room temp for an hour or two before baking with it.
Pizza dough ingredients
ITALIAN BIGA PIZZA DOUGH
Biga 00 Flour #1, 252g
Water #1, 113g
Yeast,1/4 tsp
FINAL DOUGH
00 Flour #2, 378g
Water #2, 290g
Salt 17g
---