Granny's homemade apple pie
Childhood entertaining times in the countryside always resonated with grandma's hand-made apple pie. The crispy lattice crust with cinnamon apple syrup will remind you of happiness from time to time. We bring this taste of memories and hope to pass this happiness to your family.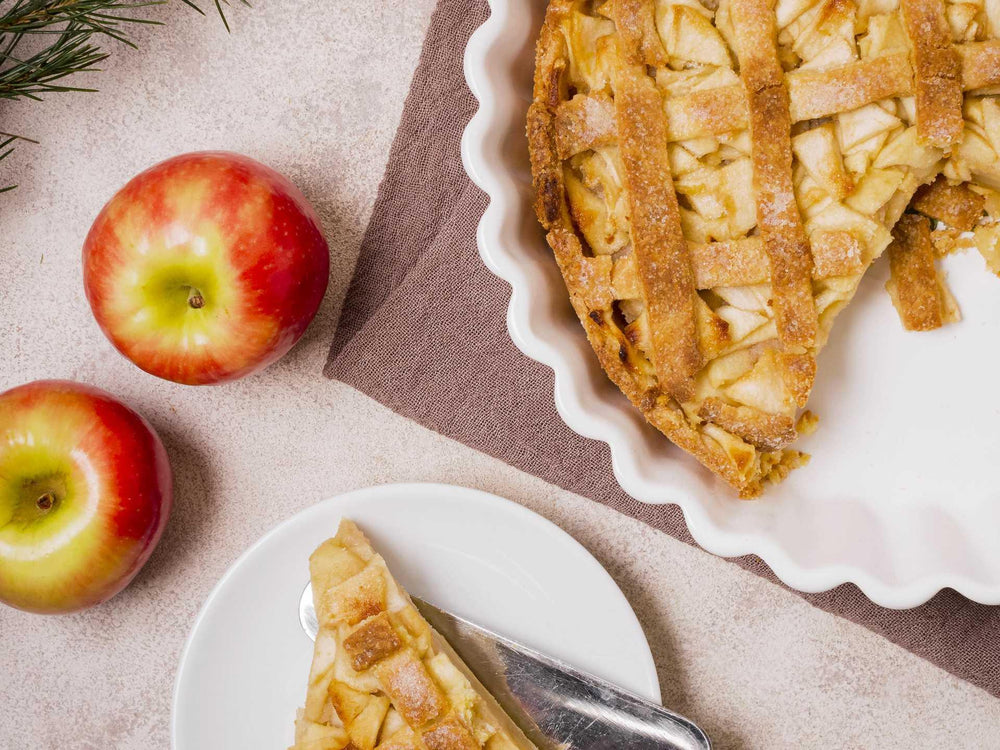 Ingredients
2 1/4 lbs Granny Smith Apples, peeled, cored 6-7 apples or thinly sliced in 7 cups
1 recipe for double pie crust
1 1/2 tsp cinnamon
8 Tbsp unsalted butter
3 Tbsp all-purpose flour
1/4 cup water
1 egg with 1 Tbsp water, for egg wash
1 cup granulated sugar
Directions
While making the filling, prepare the pie crust recipe and chill according to the directions. Set the oven to 425°F.
Butter should be melted in a medium pot at a medium heat. 3 Tbsp of flour should be whisked in before simmering for 1 minute while doing so. Bring to a boil while whisking in 1/4 cup water and 1 cup sugar. Reduce heat, boil for an additional three minutes while whisking regularly, and then turn off the heat.
Seven cups of thinly sliced apples, peeled, and cored should be put in a big basin. 1 1/2 teaspoons of cinnamon should be sprinkled over the top and combined. After adding the sauce to the apples, toss them to evenly distribute the coating.
Roll out the bottom pie crust to a circle that is 12" in diameter after flouring your work surface. Transferring it to the 9" pie plate requires wrapping it around your rolling pin. A tiny mound should be created in the center of the apple mixture before adding it. Avoid getting filling on the edges as this will make it difficult to seal.
Utilizing a pizza cutter, roll the second crust into an 11" ring, then cut each strip into ten equal pieces. Strips should be arranged in a woven lattice design on top (see video tutorial). Brush the top with the egg mixture, which you'll have beaten with 1 Tbsp. water.
For 15 minutes, bake in the center of a 425°F oven. Bake for an additional 45 minutes, or until the apples are tender and the filling is bubbling through the vents, after lowering the heat to 350 F. * Before serving, rest at room temperature for an hour.
---