Classic Margherita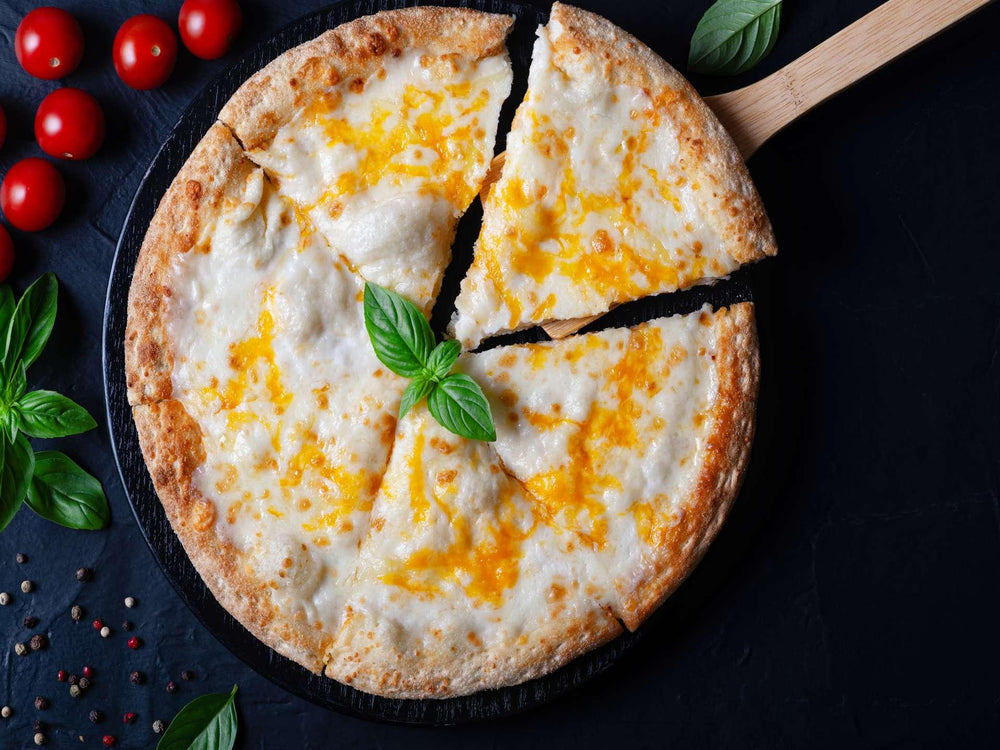 Dinner/lunch
Neapolitan
8 slices
Allowing the dough to rest in the fridge overnight yields a chewy crust with a subtle tang. It can be left for up to three days to enhance texture and flavor depth.
Ingredients
For Pizza Dough
1. In a large mixing basin, combine the yeast, 1/2 cup warm water, and the sugar. Allow to stand for 5 minutes or until frothy. Stir in the remaining 1 1/2 cups warm water, flour, and kosher salt until a dough forms. Turn the dough out onto a well-floured work surface and knead until a silky and soft dough forms, adding flour as needed. To knead the dough, use a pastry scraper. Brush the dough with olive oil and place it in a lightly greased bowl. Refrigerate the bowl overnight or for up to 3 days, covered with plastic wrap.
2. Transfer the dough to a lightly floured surface, punch it down, and divide it into four equal parts. Make a ball out of each piece. Transfer each ball to a baking sheet and coat with oil. Cover the balls loosely with plastic wrap and let aside for 1 hour in a draft-free location.
3. Meanwhile, preheat the oven to 500°F and place a pizza stone in it, allowing at least 45 minutes for the stone to heat. Pass the tomatoes through a food mill placed over a medium bowl, or pulse until coarsely chopped in a food processor. Season with salt and pepper and stir in the oregano and 1 tablespoon olive oil.
4.Stretch one ball of dough into a 13-inch round on a lightly floured surface; transfer to a floured pizza peel, adding flour where the dough sticks. Spread 1/4 cup tomato sauce to within 1 inch of the dough's edge. Drizzle 1 tablespoon of oil over the pizza and top with one-fourth of the cheese. Season the pizza with sea salt and pepper and place it on the stone. Bake for 8 minutes, or until the bottom is scorched and the cheese is melted. Sprinkle with one-fourth of the basil and set aside for 3 minutes before serving. Rep with the rest of the dough and toppings.
---