The things you need to know about Pizzello fire pit tables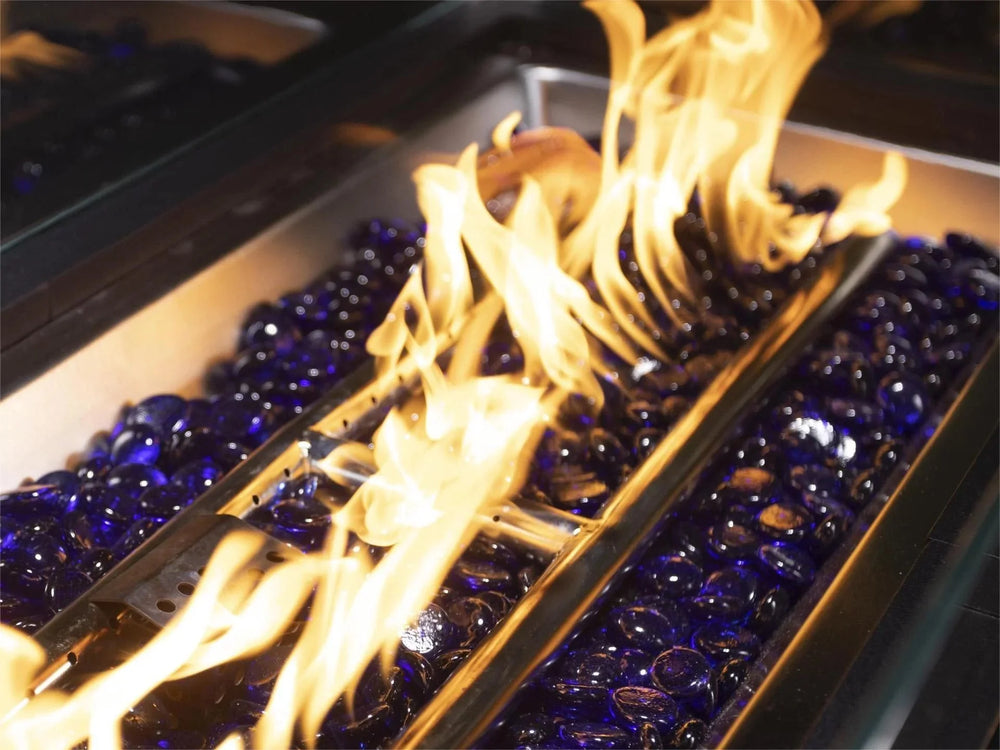 A patio or garden may become a year-round space with the addition of a fire pit. However, are you familiar with fire pit tables? Yes, a fire pit within a real table.
Sitting by an open fire is a delightful outdoor activity. Who said you couldn't enjoy the light and warmth given by the fire in the yard without congregating at the far end of the garden? You may enjoy dining and socializing far into the evening thanks to contemporary soft furniture with fire pit tables.
You may now utilize your patio year-round if you have a cozy sofa and a modern aluminium heat source. What a fantastic fallback to toast some marshmallows and spend a cozy evening during the winter!
We say go for it if you're considering fire pit table in your garden design. After all this, you won't want to go back inside.
A fire pit table offers practical light, warmth, and a level platform to set items down.
A piece of outdoor furniture that combines a fire pit and a patio table is often called as a "fire table."
Compared to standard fire pits, campfires, and other open flames, they are significantly safer.
Ideal for individuals who enjoy having talks late at night or trying to roast marshmallows on the terrace.
What is a fire pit table, exactly?
Tabletop BBQs, which are smaller versions of full-sized barbecues that can be set up on tables, seemed to be the only type available for a long. They provide intense heat that is ideal for frying hamburgers.
Up to the introduction of fire pit tables and contemporary outdoor furniture. A patio table with a fire pit in the middle creates atmosphere with a secure yet genuine blaze.
Patios are made more opulent and practical by the addition of a fire pit table. You can be sure that you and your family can still enjoy the outdoors when the temperature begins to fall.
What separates fire pits from fire pit tables.
A fire pit has a straightforward base that is typically enclosed by pavels or bricks. In contrast, fire pit tables fit into a table but still have a foundation.
A fire pit table, in contrast to a typical fire pit, is powered by gas and includes a burner.
Various fire pit table types
We'll divide the various types for this category into three parts. fuels for fire pit tables, styles, and materials readily available.
Tabletop fireplace fuel
Gas and charcoal are the two most popular fuels for firepit tables in the US. However, since propane is used in the majority of models, gas versions are more common than charcoal ones.
The advantages of gas fire pits also tend to favor them for the following reasons:
They require less cleaning. There is no ash heap for you to clean up later. They don't require the same level of cleanup that charcoal or wood fire pits do.
less trouble. To keep the fire going, you don't need to add more charcoal or any other wood-burning materials. You may unwind, relax, and spend time with your loved ones and friends in your outdoor living area.
more aesthetically pleasing. There are no ugly leftovers since there are no remaining coals to dispose of. The flames can also be seen leaping through the glass, which is a beautiful sight.
much safer. Gas fire pit tables allow you to manage the flame intensity, much like any gas BBQ. There is no need to be concerned about your kids or pet getting too close to the fire.
types of fire pit tables
Fire pit tables are available in a variety of stylish forms and premium materials. But the dining set style is one of the main types that most contemporary fire pit tables are included in.
Its mid-height appearance makes it perfect for meals and private talks. Lower rattan coffee table sets are also available with fire pit tables.
tabletop fire pit materials
High-quality materials are used in the construction of fire pit tables to ensure a secure open flame. The typical building supplies listed below, each of which has distinctive properties of its own:
Better yet, aluminium is frequently used in the construction of fire pit tables. Because of this, its frame supporting our Pizzello table sets is stable.
Because it is impervious to rain, frost, and snow, the material will last longer. You will be the talk of the neighborhood with some decorative a fire pit table!
Aluminium is stainless. This is a premium choice that is frequently highly pricey. For modern homes, the aluminium material creates a sleek, futuristic look.
Stainless aluminium is prone to rust and corrosion despite its modern attractiveness.
Because it is convenient, lightweight, and resilient, this kind of material is frequently employed. We see a lot of beautiful aluminum garden furniture since it works well with contemporary outdoor furniture and garden settings.
Although its little weight is a benefit, it can become a major issue if not stored during inclement weather.
It is susceptible to wind, which has strong steel frames.
How Do Tabletop Gas Fire Pits Operate?
A portable gas tank and a gas line are housed in the housing. A number of burners are connected to the tank below, which provides the flammable gas.
Additionally, the pit has an ignition switch. As soon as it is turned on, the burners will start to burn, simulating a real coal or wood fire.
To prevent clogging, some models call for mesh covers over the burners. Some pieces, however, like the Pizzello Capri corner sofa with a fire pit table, have glass encircling the fire pit.
What is our Fire Pit Table Used For?
You'll see that some fire pit tables can practically be used as a BBQ grill if you learn how to utilize one. Although entire BBQs can also be cooked over some roasted marshmallows, that may be the preferred method.
So long as you have a table to set the utensils and delicious sauces on, you can cook hotdogs, bacon, or even kebabs if you have a grill grate. In addition to the meat, you could cook corn on the cob.
How secure are Pizzello fire pit tables?
While using fire pit tables on wooden decks is secure, it's wise to constantly be aware of the following safety considerations.
For starters, choose a gas version if you want to install a fire pit table on your wooden porch or patio. Gas fire pit tables typically pose a lower fire risk than charcoal ones because there are no sparks or flying embers.
But if you prefer a charcoal fire pit table, you need to follow these preventive measures:
Ensure the fire pit table is far away from plants, railings, or any decorative hanging items you have on the porch
Consider adding a flame-resistant pad below the fire table to catch embers and sparks
Or create a safety zone with bricks, pavels, or metal underneath the fire pit
Don't forget to use a screen or some covers to avoid the risk of jumping sparks that can ignite in nearby surfaces
A charcoal fire pit table may provide you with authentic flavors; still, gas versions are a great option when it comes to safety. And safety is essential, so you decide!
What Are Their Prices?
Prices varies because there are numerous varieties and brands to choose from. Are you considering a high-end model or a basic one?
Depending on the brand, fire pit tables cost anywhere between $600 and $1,200 in the US. If you want other equipment for backyard camping, you should choose us to budget more money.
Including design insights such as:
table with tempered glass
Stainless aluminium gas fire pit system Glass-covered gas fire pit centerpiece
a powder-coated, rust-resistant, and lightweight steel frame.
You can be sure they're worth every cent, we promise!
For What Uses Do Fire Pit Tables?
If you enjoy having guests around for dining on chilly evenings, a fire pit table is a terrific outdoor companion. Additionally, this furniture is ideal if you want to chat with a friend late at night by an open fire.
The Pizzello Comodo fire pit Table might even be your best option if your patio is on a tight space! Even without a long patio, you can still eat outside thanks to its roomy round dining table.
Where Can I Find the Best Fire Pit Tables?
Pizzello offers attractive, durable, waterproof, and cost-effective fire pit tables. It can serve as your one-stop store for high-quality, long-lasting outdoor camping & backyard chilly lifestyle.
The Complete Guide to Purchasing a Fire Pit Table
With a view of your snow-covered yard, Pizzello fire pit table can make your winter season more enchanting and comfortable.
Beyond the obvious, you don't need to be concerned about safety. This is especially true if you take the necessary safety measures, whether you have a charcoal or gas fire pit table.
If you're thinking about buying one, our fire pit table is a better choice. It is available to you stress-free for many years to come, rain or shine. To use them, simply turn them on.
---