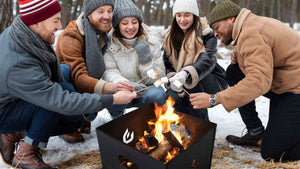 MAKE MEMORY WITH PIZZELLO
As Seen On


"We adore Pizzello's Outdoor Pizza Oven for many reasons, namely for its relatively affordable price point. "
"The Pizzello oven is easy to put together and use. It's definitely a worthwhile purchase."
"This model offers wood-fired pizza flavor with less hassle, thanks to its use of pellets. It is easy to clean, and is portable. We like the three color options, too!"
"This wood fired pizza oven from Pizzell will make your pizza parties more fun than ever before."
It's not a party, until there's fire.
We're Pizzello, your reliable partner in patio lifestyle
We're Pizzello, and we're here to be your trusted lifestyle partner on the patio.
Pizzello wasn't officially established until 2016, when we decided to take our 20 years of experience building restaurant-grade pizza ovens for the most demanding pizza connoisseurs to the backyards of all pizza lovers. The best pizza doesn't have to come from a fancy pizzeria. Join us and discover the world of artisan pizza!

Innovate the true pizza
Convenient and Efficient

Everything to make pizza
The Pizzello pizza oven comes with all you need: Oven + accessories + recipes

QUICK & EASY TO INSTALL
Our oven can be set up in just 5 minutes. Portable for travelling.

Authentic pizza flavour
Wood-fired flavor, crisp stone-baked bases and toppings that are cooked to perfection.
Why Choose Pizzello?
REVIEWS ON YOUTUBE
Pizza memories
Why Families Love Pizzello
★★★★★

"Arrived well packaged" -- Paul C. Roethele
★★★★★

"Great oven and value for your purchase" -- Elie Saad
★★★★★

"Great Pizza Oven" -- MojoMendo
★★★★★

"Amazing seller and amazing oven" -- Japo
★★★★★

"Favorite Christmas gift this year" -- Debra K Benson
★★★★★

"Easy to set up and use!!! Makes great Pizza!!!" -- Tara
★★★★★

"A really good buy!" -- carolhaven
★★★★★

"Gift for my 30 something Son and his Wife…" -- Dave T in Kansas
★★★★★

"Learning curve using it" -- klfhngr
Pumpkin Cream Trifle
Pumpkin Cream Trifle is a delicious and festive dessert that's perfect for fall and winter holidays. It typically consists of layers of pumpkin-spiced cake or cookies, whipped cream, and a creamy pumpkin pudding or custard. We also add layers of caramel or toffee bits for added flavor and texture. The dessert is usually assembled in a large glass bowl or individual serving dishes, allowing the beautiful layers to be visible.